Bamboo Fencing Can Increase Your Home's Value
Are you considering installing a new fence?
Consider bamboo fencing...it makes sense not only because it is a environmentally sustainable product but also because it is strong, durable, and beautiful.

Bamboo has a look that is unlike any other fencing material available. When it is treated properly, it can have an eye-catching appeal that may have people stopping to take photos of your fence! (That's what they do with our bamboo fence...makes us feel like movie stars ; )

Have the Best Looking Fence in the Neighborhood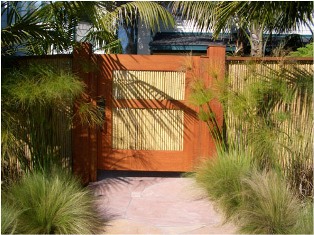 Most fences are either chain link, vinyl, or wood. And none of these options are very attractive. Fences do need to serve a purpose, such as privacy or keeping pets inside your property. But they don't need to be ugly!
Bamboo provides a great alternative to traditional fencing, and its cost is also very competitive with other fencing materials.
You can choose fence panels made from various sized bamboo reeds for your fencing. Sizes range from 3/4-inch up to 2-inch. The choice depends on your budget and the look you want to achieve. Most fence panels are 1-inch in size.
Fence panels also come in various heights, from 4-ft high to 8-ft high. Most privacy fences are 6 feet high.
Then, you can choose whether to have a fence constructed of "plain" bamboo panels or bamboo panels with a "picture frame" surrounding it. These two types of fence panels are shown in the photos below.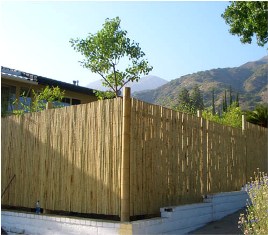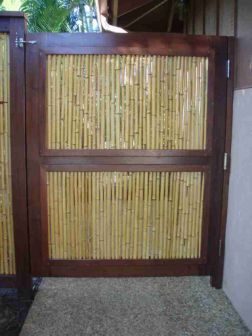 No matter which type you choose, you will have the most unique, most beautiful fence in your neighborhood!
Ready to get a quote for your fence project?
We represent a bamboo supplier that provides extremely high quality bamboo materials for fencing. The fencing is available in a variety of widths and heights. This fencing can be shipped worldwide. Contact us to get a quote for your project.
Located in the Destin-Panama City area of Florida?
We offer fence installations in some areas of Northwest Florida. Contact us to get a price quote for installing your new fence.
We look forward to transforming your yard into a beautiful oasis with a fence made of bamboo!
View bamboo fencing photos from a recent installation.
Or, learn about bamboo privacy fencing.