Solar Pool Heaters:
What to know before you buy.
Solar pool heaters are a great way to harvest solar energy to heat your pool. Most solar heaters are comparable in cost to conventional gas heaters and actually have lower annual operating costs.
Solar pool heating systems have four major components:
1. Solar collector:The pool water circulates through the solar collector for heating.
2. Filter: This removes any debris from the circulating water.
3. Pump: This works in unison with the fourth component (the flow control valve) to pump the pool water through the solar collector.
4. Flow control valve: Works with the pump to divert the pool water through the solar collector.

See the following diagram for these, and other, components of a solar pool heating system.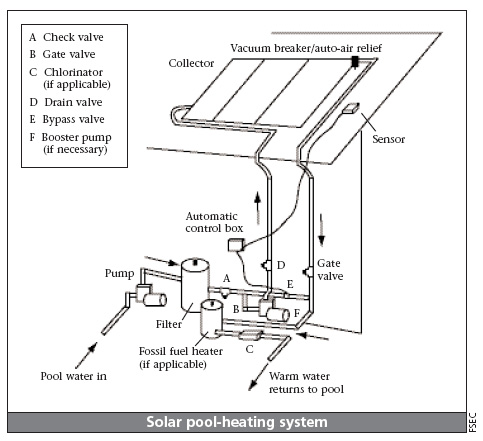 Courtesy of the Department of Energy.
The solar pool heating system operates in a simple fashion. The diverted water is circulated, heated, and cleaned in a continuous cycle. In warmer climates, the pool water can become too warm in the heat of the day. A solar heater can help with this, too. The answer is to run the system at night and the water will lose heat in the collector.
Many solar pool heating systems are automated. These systems utilize sensors and automatic valves to sense the water temperature and "deciding" whether to divert the water to the collector for heating, or simply through the filter for cleaning. These systems help to maintain your desired pool temperature.
The Two Types of Solar Pool Heaters
There are two types of solar pool heating systems: glazed and unglazed.
Glazed systems are more expensive, but are more efficient. These solar heaters utilize copper tubing that contain heat transfer fluid. This is piped to a heat exchanger and heats the pool water. These systems are better suited to colder climates.
Unglazed systems do not utilize a glass panel to heat the water. These are made of heavy duty rubber or plastic that routes the water through a collector for heating. These systems work best in warm climates and for indoor pools.
If you live in a cold climate, it is critical that you make sure that the solar pool heating system is properly winterized to prevent freeze damage.

When selecting a solar heater, there are several things to consider:

Evaluate your site's solar resources.
Determine correct system size.
Compare costs.
Be aware of local building and electric codes.
By doing your homework up front, it will minimize your cost and maintenance.
Selecting the right installer is essential, too. Be sure to choose one who has experience installing solar pool heating systems. Some U.S. states require a license to install solar pool systems, so be sure to check your local requirements.

Return from Solar Pool Heaters to Solar Energy.

Return from Solar Pool Heaters to the Home Page.