Small House Plan Photos:
"The Seabreeze" Interior
These small house plan photos show how even small spaces can look much larger, with the right plan layout and interior decorating. Note how the walls AND ceilings are all painted white, which gives an illusion of more space.




We'll start the photo tour with the master bedroom.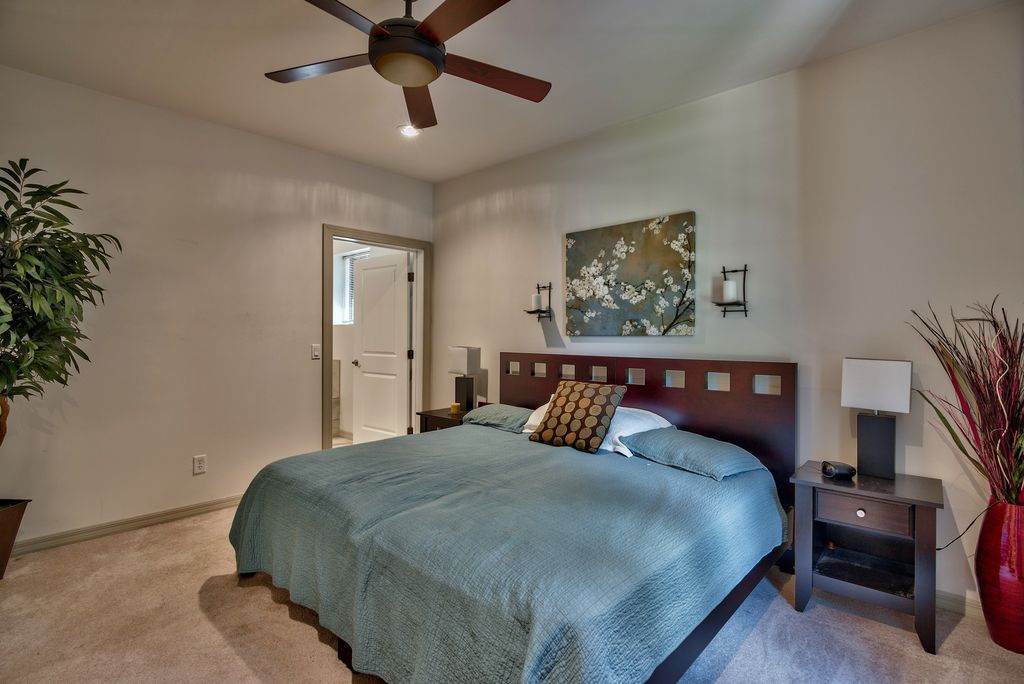 Above: A photo of the master bedroom. Note that smaller-scale furniture was chosen, which adds to the feeling of spaciousness. For example, a poster bed--though it wouldn't occupy any more space than this bed--would make the room look much smaller.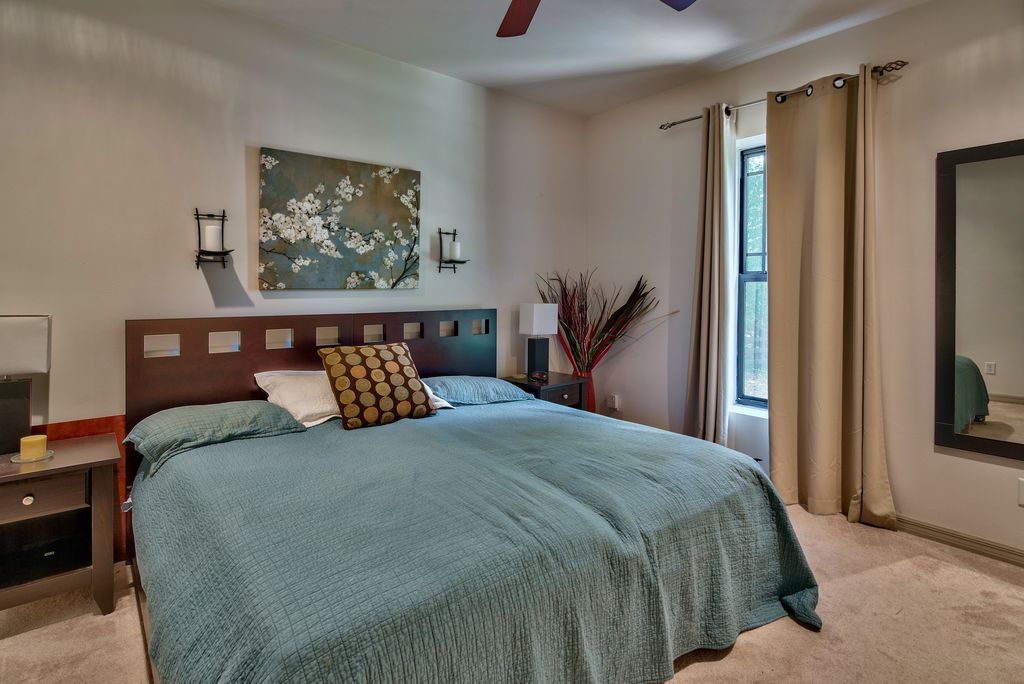 Above: Another shot of the master bedroom. There is plenty of room for a clothing armoire and/or a dresser. (Though there is also a walk-in closet in the master.) There is one window in the bedroom, which is quite large (an egress code requirement in this area), but that also helps to give the illusion of more space.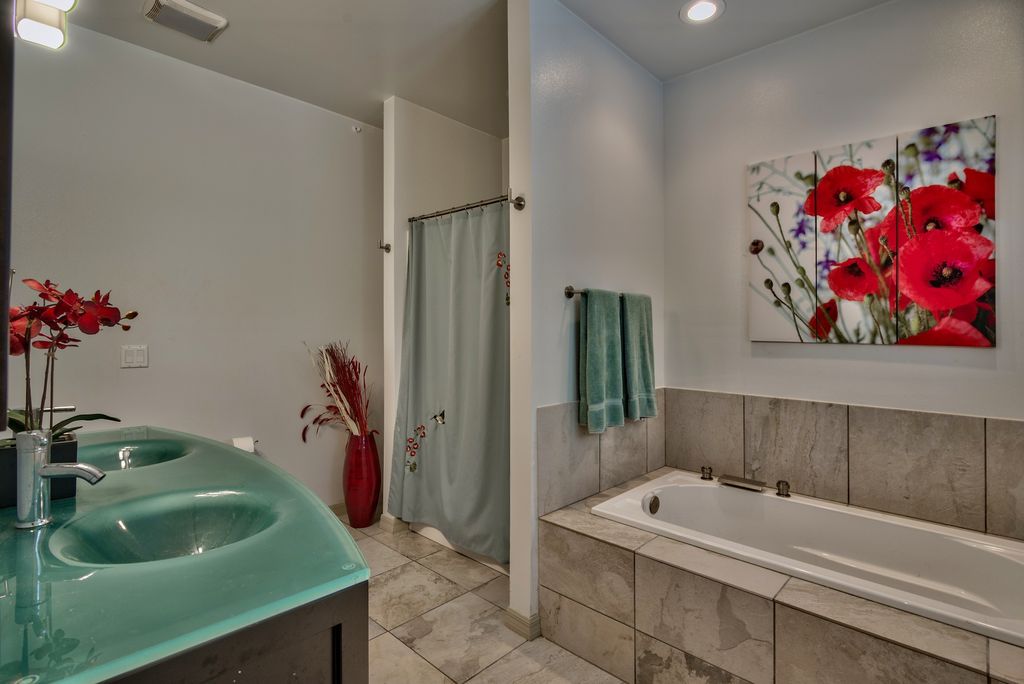 Above: The master bath, with large white travertine-style porcelain tiles and a one-person soaking tub. White walls and flooring create a feeling of spaciousness. The shower is 3 feet deep by 4 feet long. Even in a small house, luxuries like a large shower can still be a reality.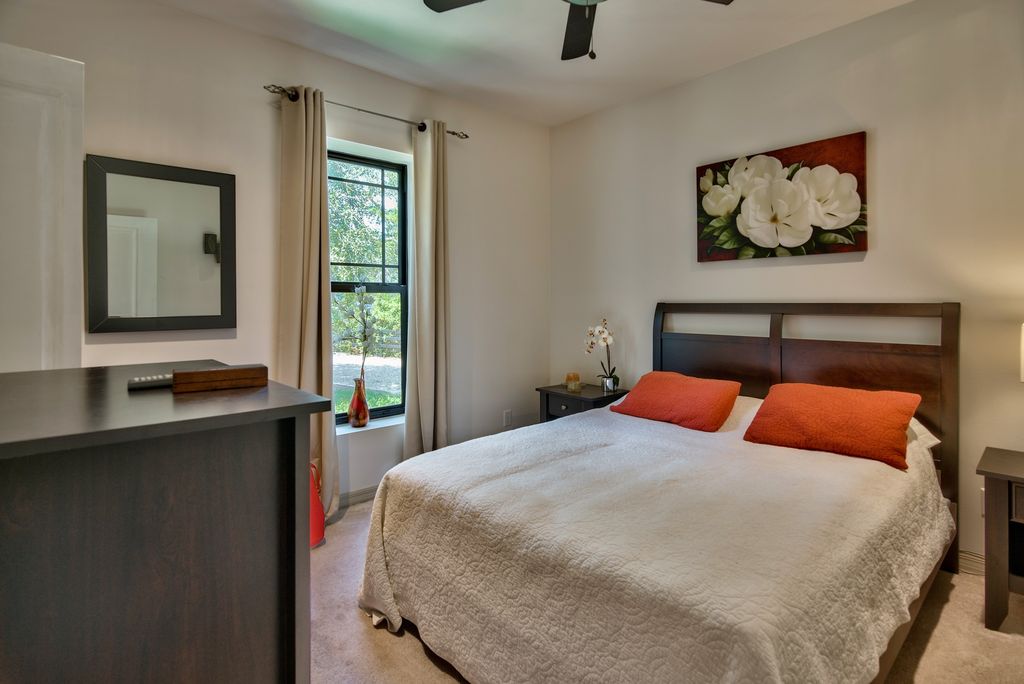 Above: Bedroom #2, which contains a queen-size bed. The light-colored walls and carpet and large window allowed this owner to use darker furniture and still have the room feel airy and spacious.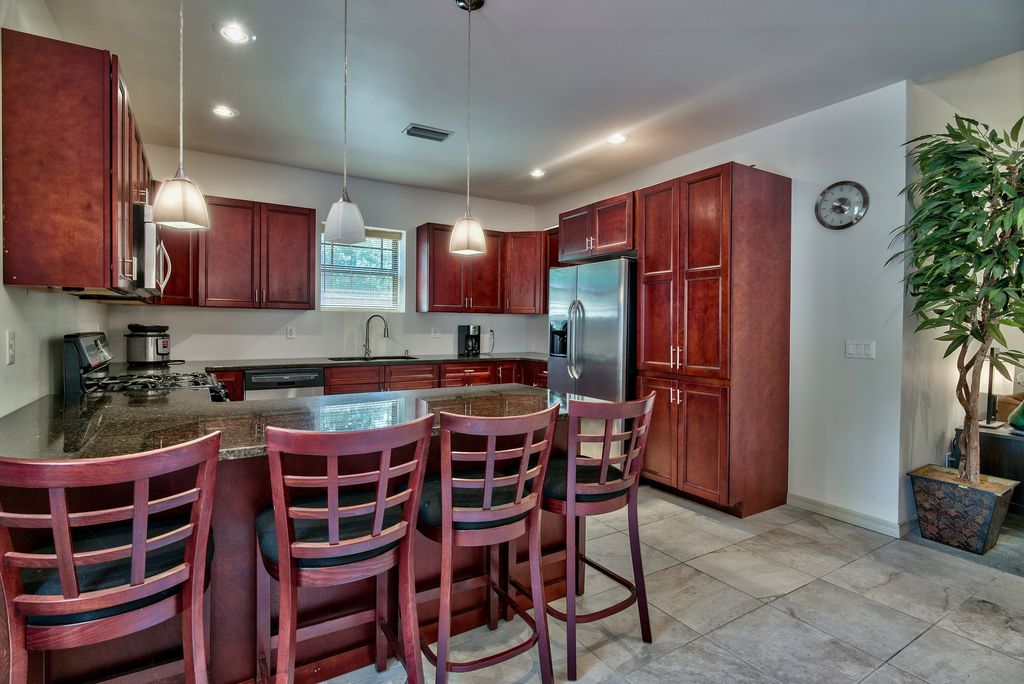 Above: A view of the kitchen from the dining room. The kitchen, dining, and living areas are all open, which gives a large, airy feel and makes the home feel much larger than it really is. The kitchen is quite large...large enough for any gourmet chef to work magic!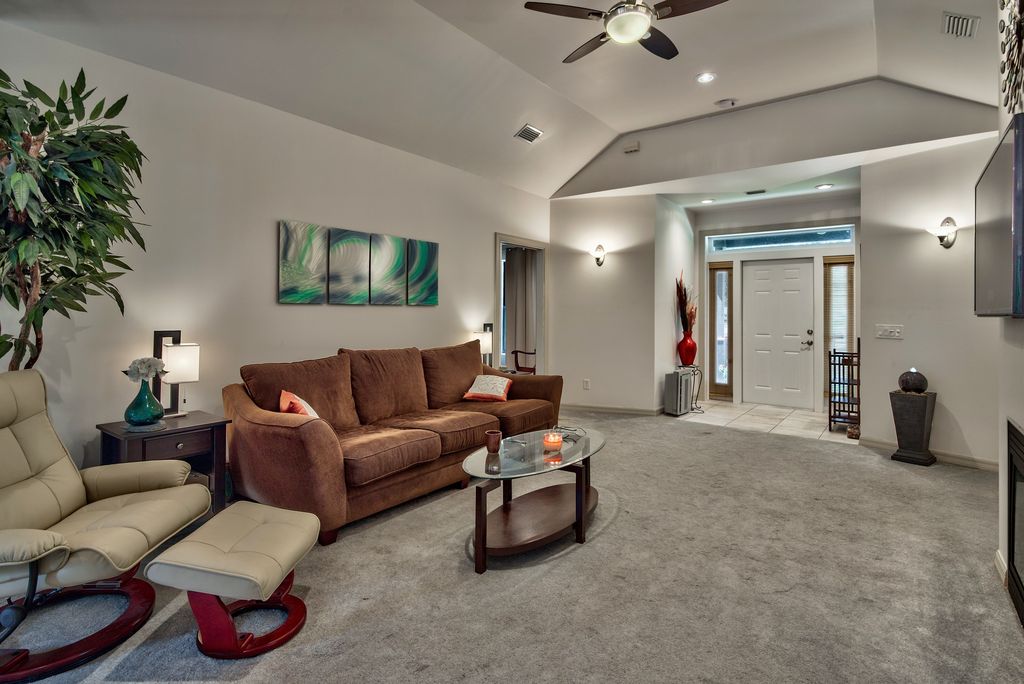 Above: The living room, taken from the dining room. This area has a higher ceiling at 12 feet.
This small house plan photo tour continues...scroll down for more photos!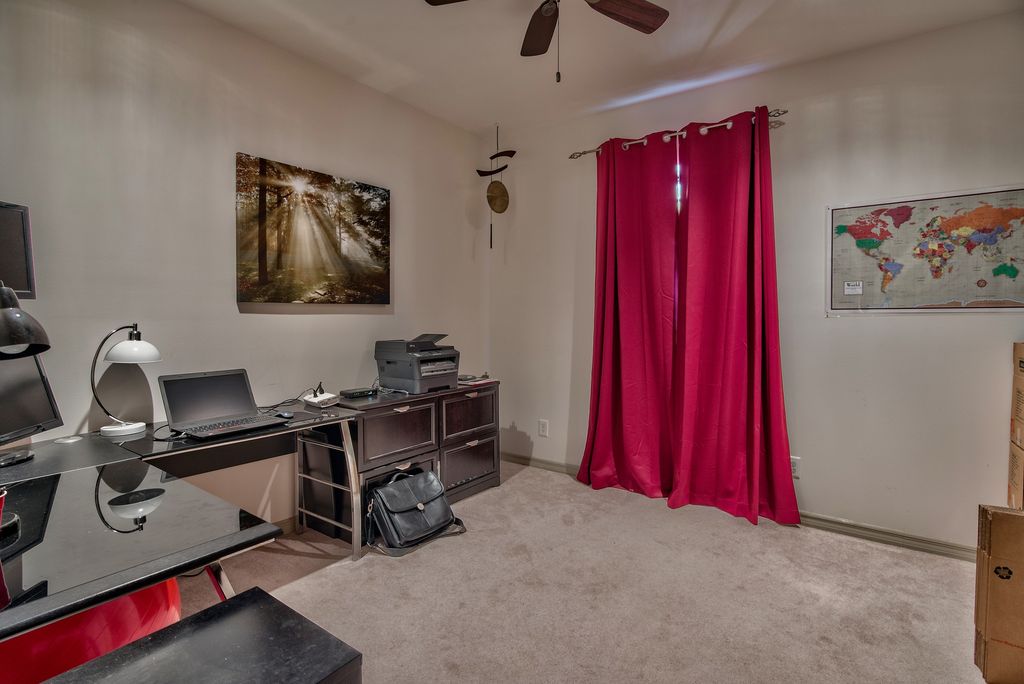 Above: Bedroom #3, which is currently an office, but could easily fit a queen-size bed.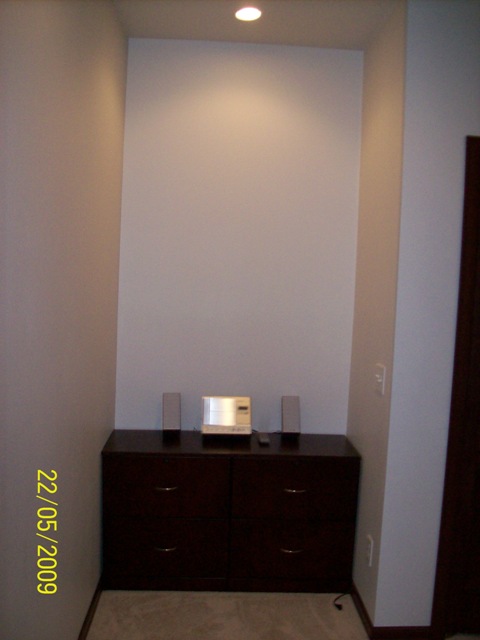 Above: The bookcase area for bedroom #3. Bookshelves have not yet been built; instead, this owner placed office filing in this space.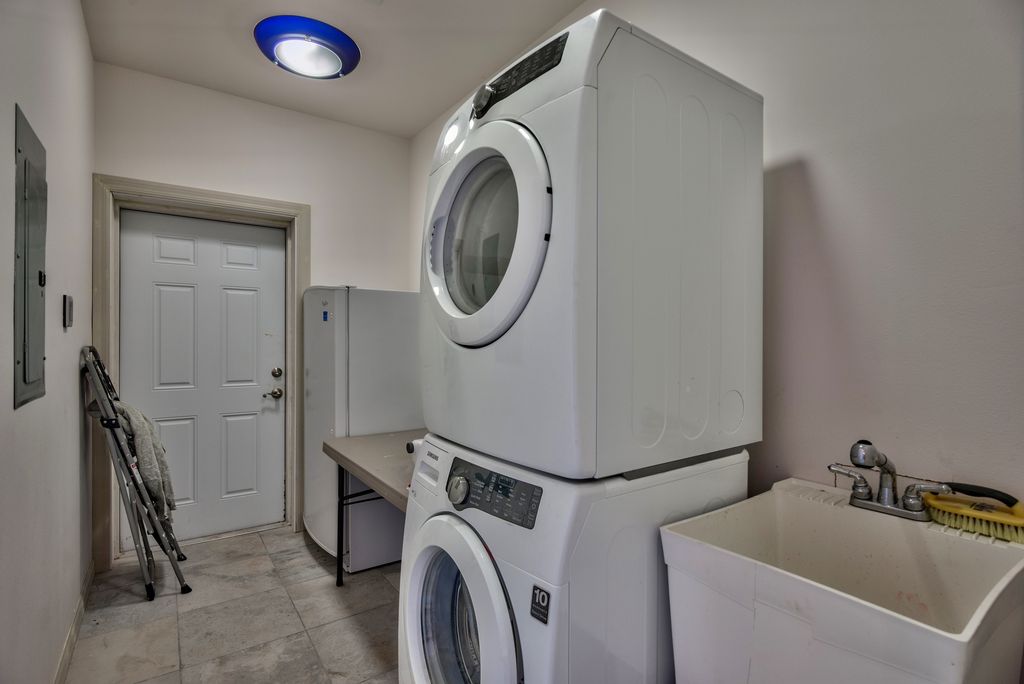 Above: The laundry room, which contains a full-size stand-up freezer, a full-size stackable washer and dryer, and a utility sink. This little utility room does heavy duty work in a small amount of space!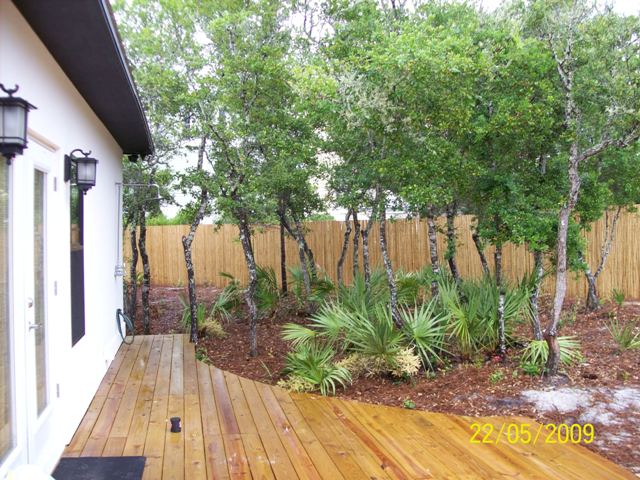 Above: To wrap up this small house plan photos tour, we bring you out the back door. This shows a view of the rear exterior; the outdoor shower is at the far end of the deck.
Interested in purchasing the Seabreeze plan? Contact the designer here.
Go to the Home Page from Small House Plan Photos.