Japanese Landscaping:
Simple Designs and Maximum Impact
Japanese landscaping incorporates many features into a pleasing and flowing environment. There are many different styles of Asian inspired landscaping--from casual country to very detailed and controlled designs. This offers the homeowner a lot of different options for his or her own landscape.

Following are some photos to give you creative inspiration:
Above: This photo shows a creative way to "container" garden with bamboo. It's also important to note that growing bamboo in containers is much wiser than planting it...bamboo is known for being extremely invasive and nearly impossible to eradicate once it's established. So plant it wisely!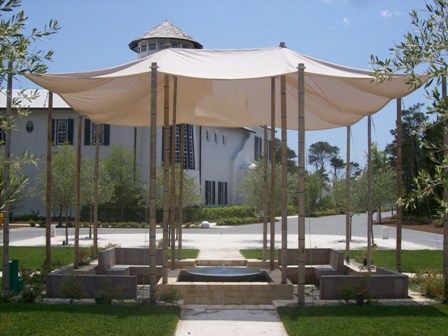 Above: What a beautiful way to create a focal point in your Japanese landscaping plan! And it's certainly low maintenance.
Design Considerations
One of the first things to consider when planning out an Asian garden is the space that you have to work with. There are many factors that will affect the amount of usable space that will be available. For example, if you are working in a reasonably small space, then you should take note of any large trees or buildings that will shade your garden.
Large objects really impact how your plants are going to grow. Many times, trees or buildings will not be on your property (they will be on someone else's property), so you can't simply remove them. These items aren't always a detriment. In many instances, a large mature tree can provide a peaceful shady area for a bench or other feature.
The soil is another thing to look at early in the planning process. Different plants have different needs. So it is critical that you do your homework before purchasing plants. Most local garden supply stores will be able to tell you what plants do well in your area. This advice can at least get you started into more through research into what you want to plant.
Pathways and fencing are the primary hard points that you will incorporate into a landscape. The number of available materials for both are endless. The real question becomes selecting the right material for the look that you are going for, but also selecting the right material for maintenance. Painting fences and weeding gravel paths can become quite a chore, so give it plenty of thought before you buy.
These are just a few things to consider when planning out your new landscape. The most important thing to do in order to be pleased with your finished product is to take the upfront steps of researching and planning before buying materials.
Return to the Landscaping Information page from Japanese Landscaping
Go to the Home Page from Japanese Landscaping.