Coastal Home Plans:
Some Cost-Saving Tips on Building Your Dream
Coastal home plans provide us the opportunity to live an exclusive dream. The design of your home is the first step in making sure the process goes smoothly and efficiently.




Here are some photos for design inspiration. These homes represent some twists on traditional styles.These "tweaks" will afford the homeowners added comfort and usability for very little extra cost.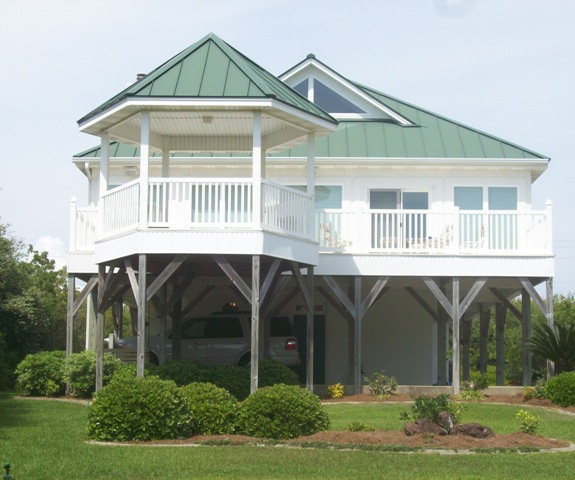 Above: This home is the classic coastal style, built on pilings to avoid flooding, a common problem in coastal areas. The pilings also provide a convenient parking area and place to store things like bikes and beach chairs. This home faces the water, and maximizes enjoyment of the water view with a cupola-style porch on the front.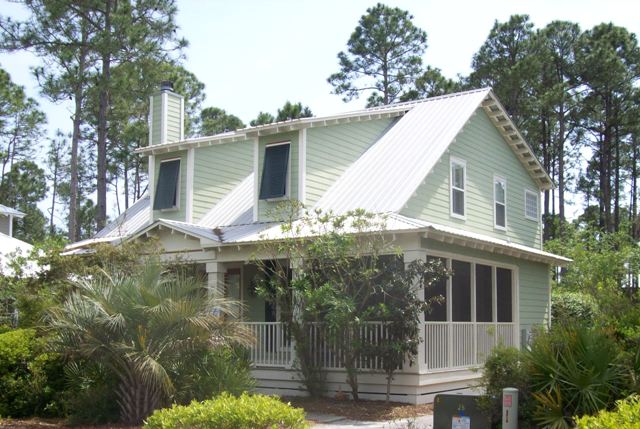 Above: This coastal home takes the classic New England saltbox style and creates a lovely coastal cottage. The dormers on the 2nd floor create more usable living space as well as adding to the exterior style.
Planning Considerations
One of the first things to consider when planning your home is the environment that it is in. We recently built a home in northern Florida 100 yards from the Gulf of Mexico.
When we built the house, we did quite a bit of research on what to look for in a coastal home. First and foremost was recognizing the harshness of the environment. Everything that is on the outside of the house has already begun to corrode. We used all high quality stainless steel hinges and door knobs, and a year later they are already showing corrosion.

The lesson learned there is to expect to replace exterior items often and to use plastic or vinyl wherever possible. Yes, there is a trade-off in terms of aesthetics, but you need to balance that with practicality.
The next consideration is interior humidity. We took extra precautions to ensure that the HVAC system included a humidistat that would monitor interior moisture and turn on the air exchanger if humidity levels grew too high. This is critically important.
Additionally, we also invested in mold-resistant sheetrock throughout the house. In such a high humidity area, it was worth the extra cost.
Severe storm and hurricane protection was another area that we investigated. We choose to build the home with insulating concrete forms (ICF) instead of typical stick (wood) construction. This method was more expensive, but is rated well for severe weather.
Other items such as impact-resistant glass are important things to consider when planning your new coastal home. Remember that once the house is built, you want to feel safe and comfortable in it, so be sure to do your homework before you build.
Return to the House Plans Catalog from Coastal Home Plans.
Go to the Home Page from Coastal Home Plans